Wednesday, October 25, 2006

To all families, friends and fellow bloggers,

The July Family would like to wish you



Minal 'Aideen Wal Faizeen wal Maqbuleen. Kullu 'am wa antum bi khair.


For more raya pictures, go to my Multiply.
Saturday, October 07, 2006
No Baking This Year!
I'm so upset! Upset because I am not baking anything for raya this year! Upset coz I am not taking any orders this year! Urrghhh... For the first time ever...I ordered kuih tarts. And more to come... There's simply no time to bake and take orders coz I cant take leave yet since I just started work. time-offs are not enough. On top of that...I dont have a cake mixer!!!! *Cries* Anyone nak sponsor a Kenwood Major?
Enough with my sulking. Ok Ramzi boy has been doing this a lot lately. Wonder who he gets it from....hmmmmmm
Sunday, October 01, 2006
My Weekend
So here's a quick update. Been too caught up with work and running to and fro starting from 6am to 9pm. So yup..there's simple not much time left for me to update the blog. By the time I get the lil prince to sleep...i'd be on my way to lala land too.
The new work place is okay i guess. Been there's juz a month so there's yet a lot more to discover. Despite the weekend events, there's nothing much to complain juz yet. heh. At least this place tracks the time-off we're entitled to for working on the weekends systematically.
It's Ramadan, so the weekends are free for family time, insya allah. So any cooking will be done only for sahur everyday and buka on sat & sun. Other than that, we'll break fast at my parent's place (where my son is btw) and head for home by 8pm.
So how did I spend my weekend so far? Well.. briefly..went out on Sat...Ramzi boy took the LRT to Punggol MRT to Dhoby Ghaut to City Hall to Bugis juz to meet up wif his Ayah after he knock off from work. Never in my life have I ever took so many MRT lifts before. Gara2 baby pram. And so we broke fast outside.
On Sunday, well... did a bit of cooking. Macaroni Black Pepper for main dish
and Banana Burittos wif Ice-cream for desert.
Actually more like Banana Popiah coz I substitute tortillas with popiah skin instead. heh. Tomorrow is the start of another 5 day working week. Hey, at least i get to leave office 0.5hr earlier! We'd always look forward to that.
Wednesday, August 30, 2006
Number 2
No no... number 2 is definitely not on the way. Not anytime soon.
28th August, like two days ago, marked our 2nd wedding anniversary. Its amazing how we easily forget such important dates..time juz passes by you. Thanks to my sis-in-law who smsed me early in the morning with her well wishes for our wedding. My goodness! She remembered. Neither me nor hubby remembered. Oh well... no celebrations this year...we are juz thankful that we've made it this far and of course thankful for the little one.
Such a coincidence, Siti & Datuk K's grand wedding at KLCC also falls on our anniversary. Hmm.. did Siti's parents also celebrated their wedding anni too?
Wednesday, August 16, 2006
New Love, New Job, New House, New Life
I am guilty. Guilty for not updating my blog eversince i returned to work from maternity leave. A lot has happened since then and took away my time from blogging and multiplying. There's a lot to update but I shall make it brief by summarizing what's more important to me.
New Love.
After the baby arrived, priorities change. Career is important to me, love what I do and I was hoping to balance family and work. At least try. But for this to be possible, all would agree that a working mum would need support from the company. I realise soon after that this can never happen. From where I work, you cannot have the best of both worlds, esp if you are a woman with a kid.
New Job.
Things change.. ppl stereotype you even before you do anything kid-related. And so... i decided... I cannot sacrifice family for work. I cannot go to work everyday knowing that ppl will make my life more miserable. I've paid my dues to the company.. and I don't deserve such treatment. Hey, its been 9 years and I am proud of myself for moving up the ladder. I joined the company as an assistant and left the company as an Asst Manager. Not too bad I must say. Oh well... 9 years is a long time and its time to move. I've left the company on the eve of National Day and next week, I will embark on a new journey.
New House.
On National Day, me, hubby and son moved in to our Punggol house. Finally! And we've been in Punggol eversince. Ramzi boy adapted well in this new environment. Alhamdulillah. To family members and cousins who've lend a helping hand, the July family thank you all.
See how ubber happy he is
Yup. We a new job and a new house... we are finally on our own. This one week of holiday for me was spent wisely : unpacking, cooking, marketing,taking care of Ramzi single-handedly. Haha.. for this week lah. coz after this... I'll be working.. and cooking will be done to minimum. I hope i can though coz I enjoyed cooking for the past few days. Loves it. Oh well, time to prep all the ingredients for tomorrow's dinner the nite before then.
Tuesday, July 04, 2006
My Lil Swimmer goes Splish Splash
Went to Sriz's place last Sunday and got Ramzi all geared up for his first swimming experience. Got him a float and swimming diaper. Bright green is so his colour.
More pictures in my
Multiply
.
This is his first and will not be his last. Mummy needs to get her own swimming gear ald.
Sunday, May 28, 2006
Licensed to Travel
I dread the idea of bringing Ramzi to the photo studio juz to take a photo for his passport. And it will juz be like money down the drain if & most possibly the photo turns out unappealing. I've been bugged to get his passport done. And so I resorted to taking the photo myself and applying for his passport online.
Successfully captured this. Note: this is the original state of picture.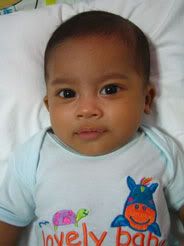 And since the requirements for the photo are:
- Colour passport size photograph taken against a plain white background. - - 35mm wide by 45mm high without border and taken within the last 3 months;
- The facial image should be 25mm and 35mm from chin to crown
- 400 by 514 pixels if submitted online
I made adjustments in accordance to the requirements and ended with this.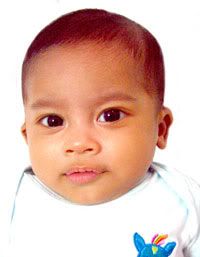 Submitted application online and prayed that they will not reject the photo. 3 days later...Ta Da... Ramzi got his own passport liao!